How to Use Microsoft Teams Like a Pro
Recent disruptions to your regular work routine have probably seen you getting to grips with team collaboration tools such as Microsoft Teams.
And now that you've grasped the basics of MS Teams, it's time to understand what more it can do beyond chat and video-conferencing. From smooth communications to enhanced productivity – Teams has more than one trick up its sleeve to simplify your work life.
In this article, we'll take you through some of the more advanced features of Teams so you can learn to use it like a pro!
The Secrets to Team Productivity
Tabs
Tabs are web pages embedded in Microsoft Teams. They can be used to add third-party apps and services to your Team account, allowing you access to information without ever having to leave the app.
There are two types of tabs: Static and Configurable. The former is for individual users while the latter is used for the whole team channel. All tabs are visible at the top of the screen, making them easily accessible.
You start off with some tabs already set up. For example, files that are uploaded in the chat will appear in the files tab, while any notes taken by team members live in the notes tab.
How to add tabs
Select the '+' sign on the tabs bar like you would on your browser.

Choose the type of tab you want. For example, let's create a tab for a website we want to access.

Give the tab a name and insert the URL.

Press 'Save'
If there's a developer in your team and you have an app that you want to share with your Team, you can also add custom tabs.
Bookmarks
To avoid losing yourself in the continuous stream of content that is present in a Teams channel, you'll want to bookmark specific content that you need.
When you see a piece of content that you might need later, simply click the three dots next to the emojis and select "Save this message".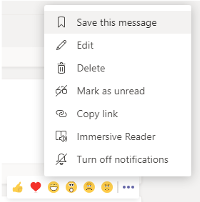 The saved message will be stored in your saved messages, which you can find by clicking on your profile icon in the top right corner.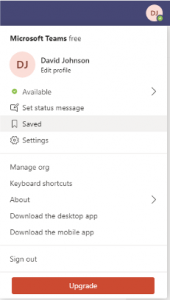 Mentions
You're already using mentions, right?
When posting to a channel, you can alert the team or specific members of that team and draw their attention to the post. This will notify them with an alert and likely elicit a quicker response if one is needed.
What if you haven't saved a specific message that was directed to you?
You can find it by using @mentions.
Clicking on the activity tab will take you straight to a list of mentions, replies and notifications.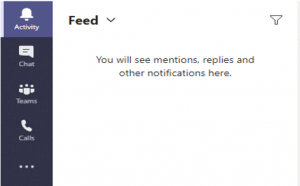 Another way to improve searchability is by naming your chats so you can find them easily later.
Personalisation
This is the era of personalisation and, accordingly, MS Teams allows you to personalise your workspace.
First of all, it provides a personal app space, which you can find on the left side of your screen.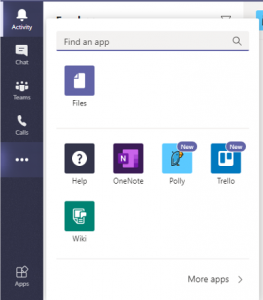 Here you can access your personalised environment and all the tasks assigned to you from multiple apps like Trello.
Here, you'll also find your company Wiki, where you can use your Personal wiki to take notes or see all the wikis you're currently involved with.

To add to that personalisation, you also have the option to Show and Hide channels. You can, for example, choose to hide the ones that aren't relevant to you at that moment and keep the ones that require more immediate attention.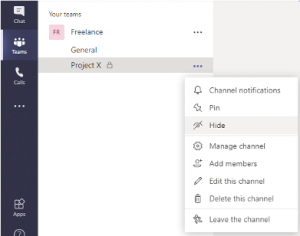 If you really want your MS Teams to look and feel like your personal workspace, why not change the theme by heading over to General Settings?

Keyboard Shortcuts and Slash Commands
You certainly don't want to waste time doing tedious things like setting your status or scrolling through a chat to find out if you've missed anything important.
Luckily, you can take care of these by using slash commands.
To veteran internet users, these might sound very familiar. Back in the 90s, Internet Relay Chats used chat commands for the same reason you want to use them in Teams – to save precious time.
To use a slash command, simply start typing in the "Search or type a command" box.

We've put some of the most useful commands in bold below for you to try out.
/activity – View someone's activity
/available – Changes your Teams status to "Available"
/away – Changes your Teams status to "Away"
/busy – Changes your Teams status to "Busy"
/call – Initiate a call
/dnd – Changes your Teams status to "Do Not Disturb"
/files – See your recent files
/goto – Go to a certain team or channel
/help – Get help (with Teams; not the 'lie on the couch' kind)
/join – Join a team
/keys – View keyboard shortcuts
/mentions – See all of your mentions (handy if your Teams channels are really busy!)
/org – View an org chart (yours or someone else's)
/saved – View your saved list
/unread – See all of your unread activity
/whatsnew – Check what's new in Teams
/who – Ask Who (a new app that lets you search for people by name or topic) a question
Email Forwarding
Another wonderful secret in MS Teams is its connection to Outlook. If you often hop from Teams to Outlook, you might find this little gem useful.
You can:
Reply to messages in Teams from Outlook
Turn an email into a Teams conversation by clicking 'Share to Microsoft Teams' on your Outlook interface after you integrate
Forward an email to a Teams channel by getting the Channel's email address. To do this, click on the three dots next to the Channel's name and select "Get Email Address".
Note: This feature needs to be enabled by your IT admin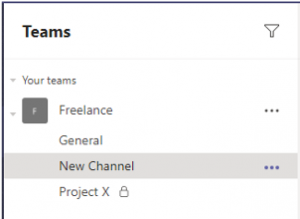 See your email attachments upload directly into the Channel's Files Tab.
The Joys of App and Bot Integration
Now it's time to enable even greater efficiency for your team by discovering the joys of integration.
MS Teams lets you integrate a plethora of applications and bots to help you during your everyday work life.
Out of over 200 productivity app integrations, we've chosen to highlight a few:
Sharepoint
We could call this MS Team's soulmate – Microsoft Sharepoint.
You can add SharePoint pages, lists, and document libraries to Teams channels through the website tab as explained in the previous section.
Zoom or Webex
This video chat tool is now in everyone's living room. Its simple interface makes it excellent for any kind of video call, from work to recreational.
When you add Zoom to your apps, the Zoom bot will send you a helpful message outlining which commands you can use. For example, you can use 'start' to start an instant meeting.
Webex gives you the same option, which means you can add your Webex meetings to Teams using the simple integration.
Much like Zoom, you can send links from Webex into Teams and schedule meetings on Microsoft Office 365 calendars.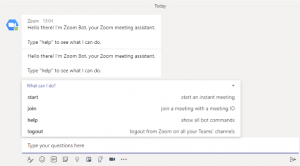 Lucidchart
Working visually helps you wrap your head around complex workflows and concepts. The Lucidchart integration allows users to see, edit, or comment on a document straight from Teams!

Try it out and discover:
Commenting, notes, and @mentions
Real-time collaboration from any location
Drag-and-drop visual editing
Interactive diagrams
Presentation mode for slideshows
Polly, AgilePolly and Qubie
To understand how your workspace is running, it's imperative to know how your employees are working and feeling.
Polly is a simple polling app that will help you communicate and receive feedback from your team. PollyAgile can be integrated into your current agile methods by automating standups and check-ins, tracking status updates and identifying main blockers.
Once you install them, you'll receive an instructional video on how to set up standups in your chosen channels.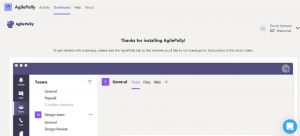 Another one for employee engagement is Qubie. This integration helps you by asking easy sentiment questions such as "How was your week?"
Then, it uses the collected information to deliver reports based on employee feedback, along with easy sentiment analysis.
Like Polly, it identifies roadblocks in performance and insights into collaboration.
Microsoft Connectors
Connectors are used to stream updates and important information straight into Teams from popular apps such as Twitter, Wunderlist, Github and even Google Analytics. There's a pool of connectors in the Apps section that you can scroll through.

New and Exciting Features
We've covered just a few of the more advanced features available in MS Teams. Here's a sneak peak at some others you may find useful for your company:
Incoming IP Video Policy – You can control both outgoing and incoming video where needed. This can help when trying to manage bandwidth in certain locations.
Starting in January 2020, Microsoft is including the Microsoft Teams client in the O365 ProPlus Semi-Annual Channel!
With the new Task Pane, you have a centralised view of tasks from Microsoft Planner and other apps.
You can now pop-out chats to have several chats sitting next to each other and avoid having to leave the chat continuously.
Finally, Linux users will be glad to know that they can install Teams directly instead of using the web version.
The MS Teams you know is just the tip of the iceberg. Underneath, there's a myriad of features that will make your team's life easier and ensure a smooth transition to a modern workplace.
If you want a more tailored walkthrough, get in touch at info@itbuilder.co.uk and we'd be happy to have a chat.
Otherwise, feel free to download our accompanying in-depth guide for small businesses here.