Is this the final goodbye for the desk-phone?
We've all seen the headlines recently.
"It's the end of the office as we know it."
"Coronavirus will change the way we work forever."
"Work from home is here to stay."
News and social media are full of predictions regarding the future of work, and businesses across the globe are already rushing to change policies and gear up for a much more digital way of working.
Let's be honest, the 'future of work' will probably settle on some form of hybrid model – a blend of office and remote working depending on the nature of your business.
Not all companies can go fully remote, not all parents want to be stuck at home 100% of the time, and not all millennials can afford to work in coffee shops for the rest of their careers!
Whatever the future of work holds, one thing is certain – the drive for digital continues and the need to cut costs will remain for some time to come.
Luckily, these two things are not mutually exclusive. In fact, many digital solutions can help to reduce overheads.
One such solution that many of us have come to love in recent weeks is Microsoft Teams. It's eased the transition to remote working for companies of all sizes and opened up a whole new world of video conferencing and even online team 'pub' quizzes.
One thing MS Teams also now offers – via an integration with your telco network of choice – is the ability to add a "landline number" and call features so you can ring anybody; not just other Teams or Skype users. You can even your existing phone numbers and extensions, but just route the calls to the relevant person via their Teams interface. Those of you who have followed us for a while will know this is a concept called 'Unified Communications'.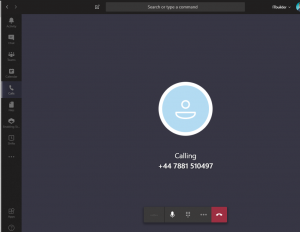 The possibilities for this are vast – if you've got any sort of call groups or queues on your office system, then this Teams feature can actually replicate that too. You can even set up hunt groups so that users can share incoming calls with colleagues and configure how they want to be notified of a call via the MS Teams interface.
Yes, this solution may be sounding the death knell for the trusty desk phone that's seen tough times, even fending off the mobile phone there for a while. But it may just be the cost saving you need right now – heck, it will even save on cleaning costs when we do all return to the office, with one less object to wipe the dust from.
If you'd like to find out more about this nifty solution, then give us a call or drop us an email.