Big-business meeting room on a budget
Now that offices are slowly re-opening and staff are making a tentative return to the workplace, does this spell the end of daily video-conferencing?
Of course it doesn't. Now that we have all been to forced to overcome the awkward aspects of online meetings (e.g. having to witness your own crazy hairstyle seconds before joining or that horrible moment between the goodbyes and the scramble to hit the leave meeting button), we have really only just got started with them.
This fact is confirmed by the flurry of enquiries we have recently received for video-conferencing solutions as businesses do away with fixed desk locations in favour of increased meeting space. We aren't talking about your huge boardroom or conference facilities either, but smaller 'huddle rooms' where colleagues can get a breather from isolation and thrash out work face-to-face.
The rooms all still require the option to include those that can't make it in person. Therefore, companies are looking for something that is better than crowding around a laptop, but that doesn't break the bank because of this COVID-affected economy.
With demand so high for video-conferencing solutions, we are seeing that even entry-level equipment from vendors such as Logitech still costs a chunk of change with the camera alone coming in at close to four figures.
So, we set about seeing if you could put together a practical, low-cost solution that would service a small meeting room. Something we could offer our customers but that work for us too.
We're pleased to say that with a bit of shopping around, some recycling of old kit and a bit of trial and error, we have built something that will meet the most small-business' needs without costing a packet. We think it looks pretty neat too.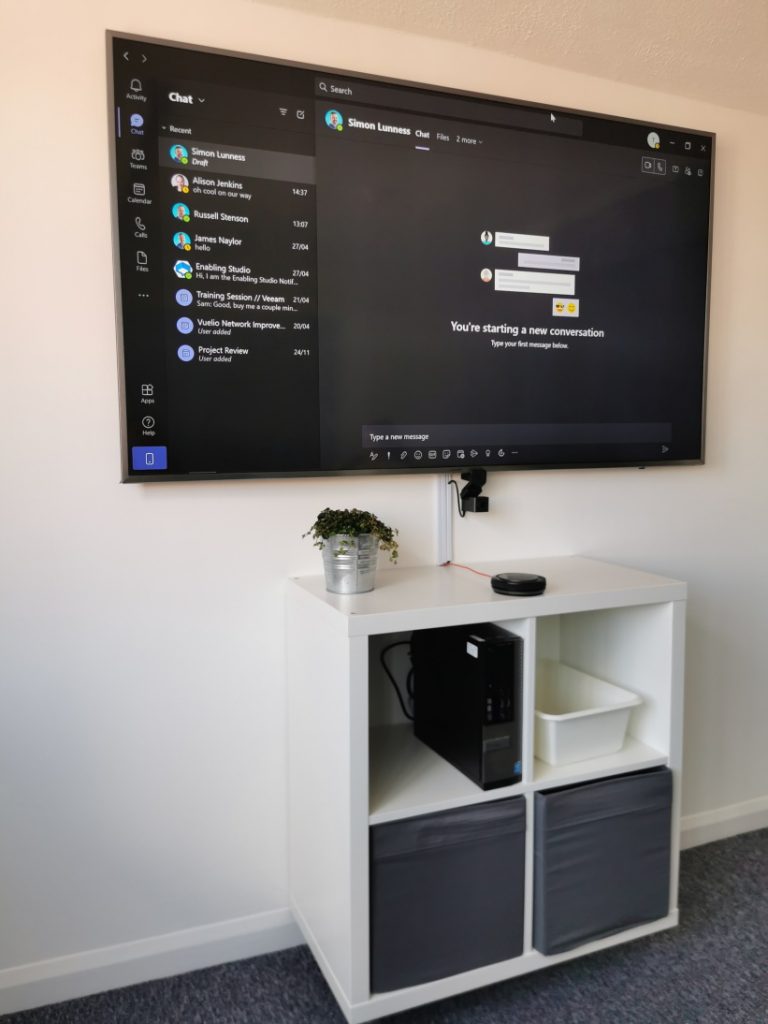 Here is the recipe:
Personal Computer – Re-use a spare, small-ish desktop computer. With many businesses switching to laptops since the pandemic, many will have an unused desktop computer laying about. The one we had was a Dell Optiplex 7080 with Intel Core i5 and 8Gb of RAM. We replaced the hard drive for SDD drive to speed it up and then installed Windows 10 afresh.
Microsoft Teams – we installed our preferred online meeting app, upgrading our meeting room account (Turing) to a full license and configuring this to auto-start and sign-in. Because it is a meeting room account, it can be invited to a meeting as a 'location' when using the Outlook appointment as shown below.
Webcam – we researched a lot of cameras for this project and happened upon the Huddly Go. This is a cool, personal camera device from the innovators from Norway, with an excellent 150° lens and clever software controls that provide excellent field of view that captures even four or five people around a table.
Speaker & Microphone – to provide clear audio, loud enough for a small room, we chose the Plantronics (now Poly) Calisto 3200. This USB cabled device integrates with Teams perfectly and provides rich, clear 360° audio.
All of the above items were connected up to our existing meeting room display and has given us a great meeting room solution with change from £500! With such a cost-effective arrangement, this allowed us to splash out on a funky, wall-mounted console unit (actually only £30 from Ikea!) to sit it all on.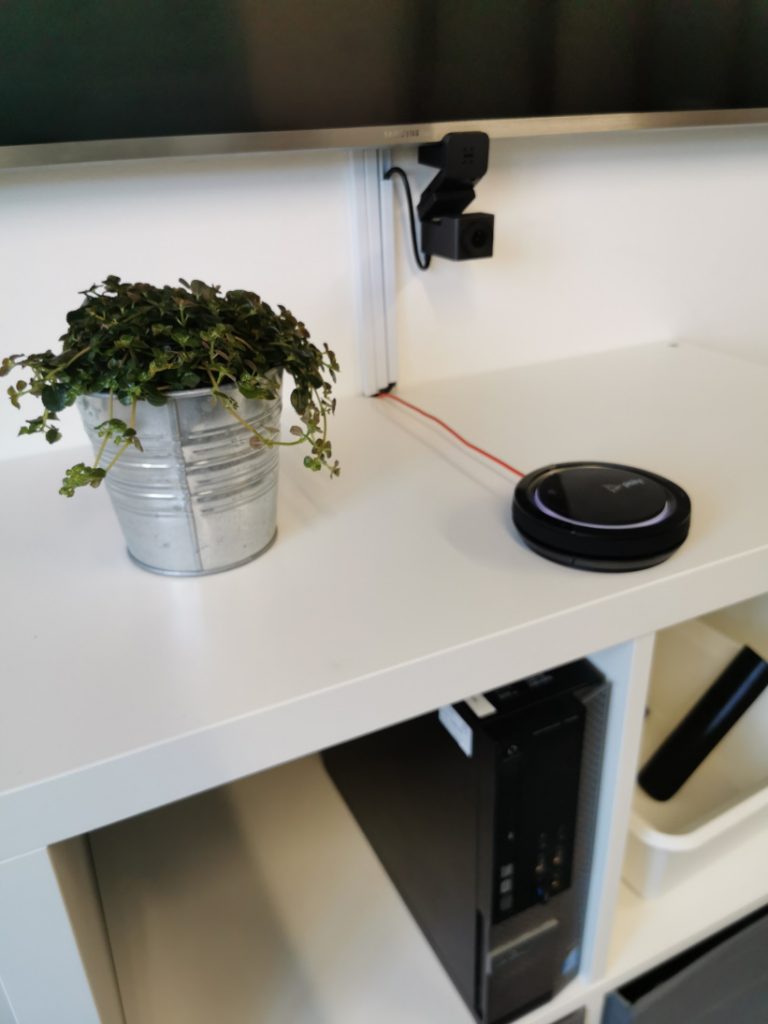 If you would like to get hooked up with our budget meeting room solution, give us a shout.