The art of video-calling – and how to avoid those awkward moments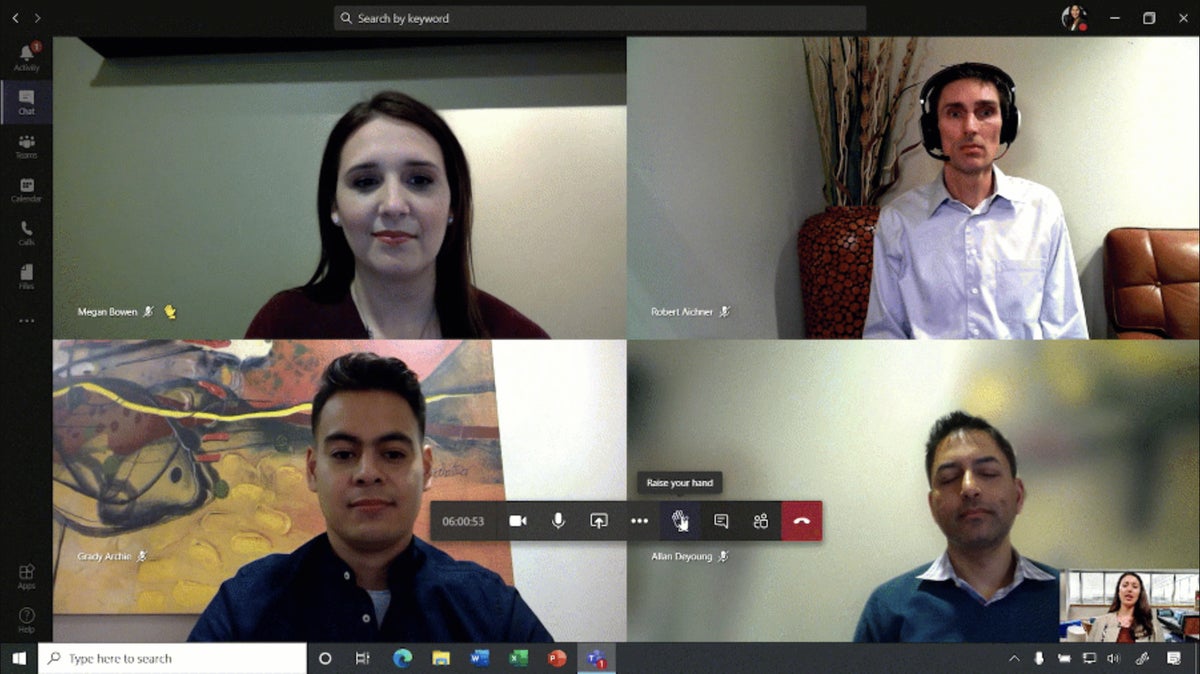 Did you know that when video calls were first launched back in the 70's that they were a commercial failure?
Hard to believe, but it's true. The first true commercial video conferencing system was called the Picturephone service.
Black and white, uncomfortably intrusive, and incredibly expensive – unsurprisingly, it didn't catch on.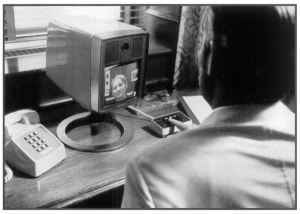 https://beatriceco.com/bti/porticus/bell/telephones-picturephone.html
From then on, its popularity saw a steady rise thanks to many technical improvements and the increase in personal devices in the 21st century. Both in remote working and personal affairs – we were gradually climbing up the digital mountain.
And then suddenly, in 2020, an unexpected situation strapped us to a rocket and sent us shooting upwards. Video calling has become an integrated part of our lives with even the older generations adapting to this technology.
But it's one thing to adapt in a friendly and casual setting, and another to adapt in a professional one. Things can get complicated, awkward, and occasionally quite funny.
Video-conferencing Mishaps
Sure, it's somewhat of a privilege to be able to work from home right now, but things can get a bit awkward when we're adapting to new ways of working.
Which of these have you experienced in the past month or so?
That moment at the end of the video meeting when you have said goodbye and one or both parties take an eternity to find the right buttons to end the call.
Some connection disruption that freezes you in some random and unflattering pose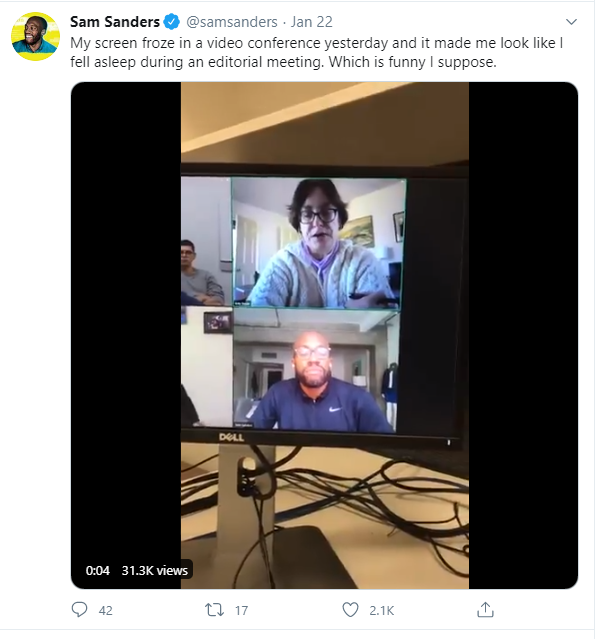 Then, like that one famous BBC interviewee whose young child and baby-in-a-stroller walked in on him, there's the unexpected interloper that does something entirely natural in the background.

Hopefully not one that you have experienced personally, but it has happened; the one where the participant has lost concentration, forgotten they were on the call and taken their device into the toilet with them!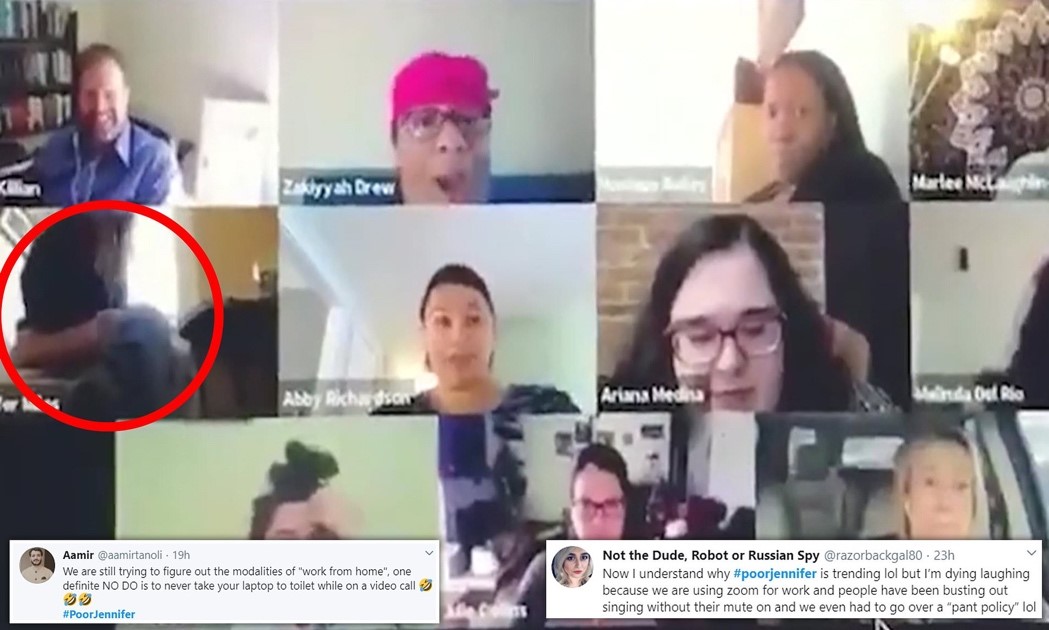 And I'm sure we've all experienced the colleague who accidentally clicks on one of the many video app effects but then is unable or forgets to remove it – yes folks, she ends up being a potato for the rest of the meeting.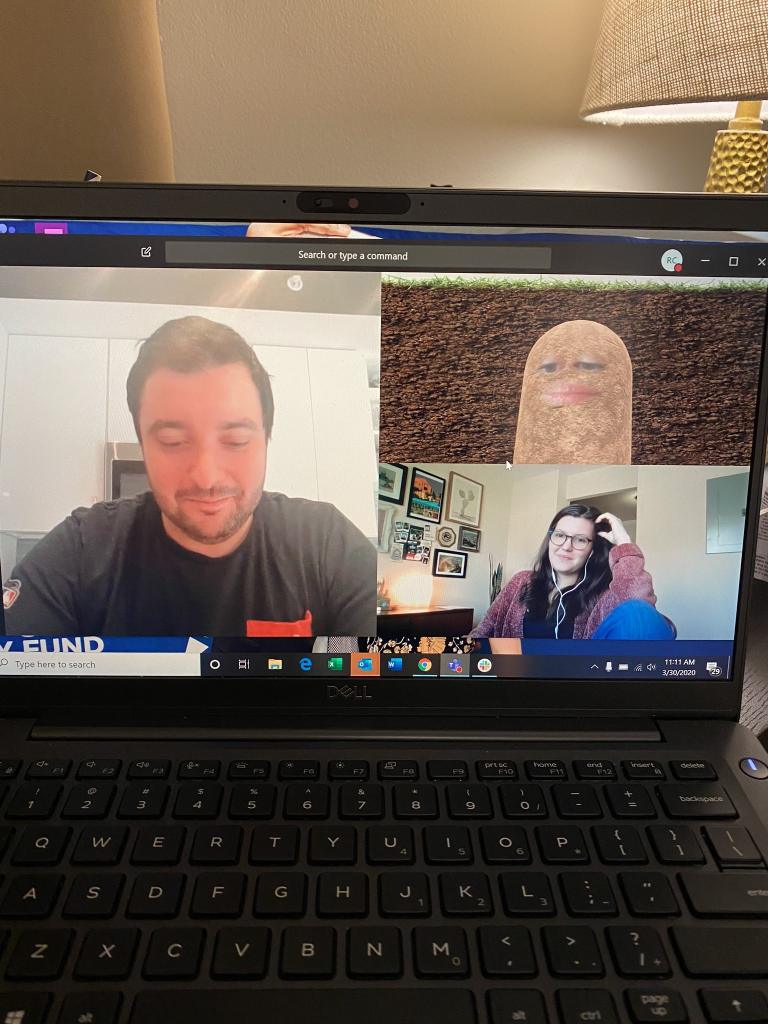 But there's also the comfort of knowing that we're all in this together and going through the same adjustments, so perhaps spice up a long, dull group meeting with some buzzword bingo
And we couldn't cover the topic of video conferencing without the topic of attire! Many teams are adding some fun to meetings in fancy dress, but we strongly recommend not being too blasé about not being visible in the trouser department…


Or even show other meeting participants the utmost respect and dress up to the nines, for a change.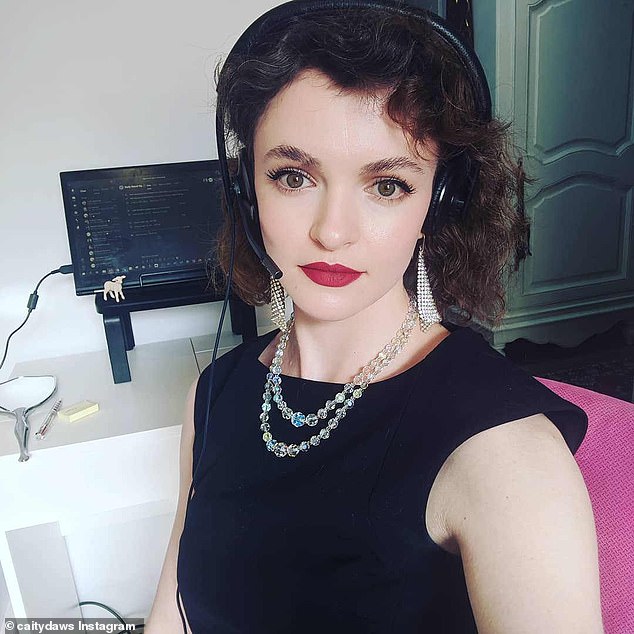 Just remember that if you use a custom background for a family call at the weekend, to remove it again on Monday when you're back to the work.
Tips and Tricks for Video Calls
However amusing these things might seem, they aren't ideal in a professional setting and may lead to distractions. If you want to avoid these embarrassments, here are some quick tips and tricks
Before the call – prepare the agenda, prepare your questions, go to the bathroom, eat and drink a good glass of water.
Be more diligent about paying attention: active listening, hands on your lap, devices off – it can be more difficult to pay attention in a video call!
Video on or video off – that is the question! Try to remember when you're muted and when you're not, and decide if it's worth distracting your colleagues with your video on when someone is presenting something.
Don't overlook the details. For example, the amplified sound of tapping on the desk, the close-up on your face that reveals where your attention is (or isn't!) – you have been warned!
Check your background. Don't forget to keep your background tidy and organised – your background reflects you. You can use a custom background if it fits with your professional persona or work environment, or just keep it simple and distraction-free.
So is Video Calling temporary hype or here to stay?
Apart from the obvious advantages of the current situation, there's more than one perk of being able to collaborate face-to-face from your living room.
Instead of lifeless emails with ambiguous tones, video calls give you facial expressions and more accurate tones of voice. Of course, many visual cues are lost on video, which is something to be aware of, and seeing your face on screen constantly may be a slight trigger for "appearance anxiety".
Screen sharing instead of sending screenshots, and meeting recordings to double back on things you may have missed, are both proven ways to help users collaborate and learn. Then again, the success of these features depends on your team's network stability, unlike in real life.
Some say that things might not go back to normal after this overuse of video conferencing – we'll have adapted too much. Others believe the complete opposite, that we'll rush back to the office and savour every moment we spend in the presence of our colleagues.
Whichever way the scale tips, a moment of equilibrium will follow in which we'll be able to put our newly-acquired skills to good use. A good combination of human proximity and remote collaboration facilitated by technological advancements will bring us to the true Workplace 2.0.