Contact us on the world's leading messaging platform
1. I am on my computer or smartphone and use the WhatsApp app on this device.
CONNECT APP

This option will automatically connect you to us on the app on your device.
2. I am on my computer and use the WhatsApp Web App on this device.
CONNECT WEB APP

This option will open your web browser at the WhatApp page and require you to connect with your smartphone.


3. I am on a computer but want to use the app on my smartphone.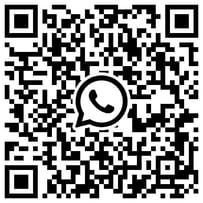 SCAN ON PHONE


4. I don't even have WhatsApp yet!!
WhatsApp is a widely-used messaging platform that allows users to send text messages, make voice and video calls, and share various media files, including photos, videos, and documents. Acquired by Facebook in 2014, WhatsApp has become one of the primary means of communication for billions of people globally, offering a user-friendly interface and end-to-end encryption for secure conversations.
Its cross-platform functionality enables seamless communication between users on different devices, including smartphones, tablets, and desktops. For those reasons, it is the perfect chat application to receive technical and commercial support for your IT systems and services.